1
« on: November 27, 2013, 04:53:32 am »
When it comes to VP benefiting from attack cards, we all know that Mountebank helps the opponent's Garden deck… but that's about the extent of the obvious examples. I stumbled upon one in a Goko game last night. See if you can spot it: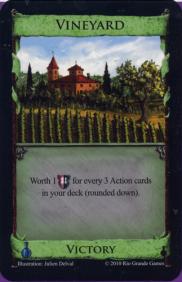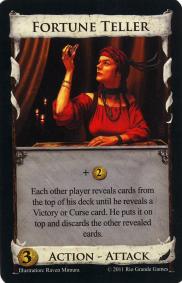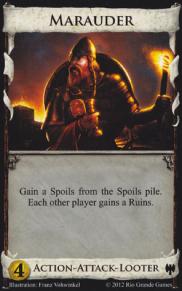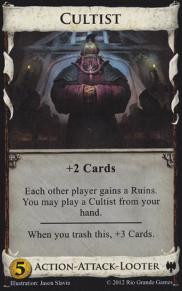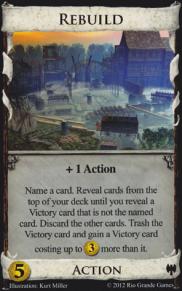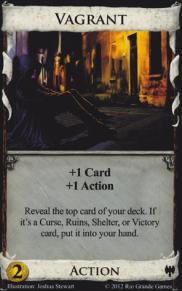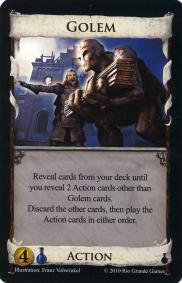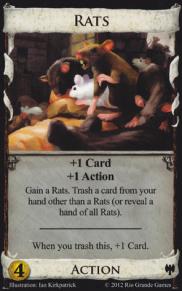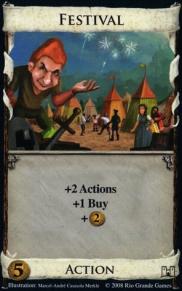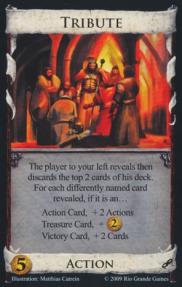 Even without the combo I'm about to describe, this is already an interesting board. Golem+Rebuild/Marauder looks tasty, as does Big Money Cultist.
My opponent opens Cultist/Vagrant, and I open Silver/Rats. As my Rats eat through my Coppers and Estates, my opponent fills my deck with Ruins. I buy some Festivals and stuff for good measure, and I buy my first Potion before my fourth reshuffle. Meanwhile, my opponent is playing textbook Big Money Cultist. I buy my first Vineyard on turn 13 and my second on turn 15, and I think my opponent caught on to my plan around that time because she buys her first Potion on turn 15. The Vineyard split ended up being 6-2, but the Vineyards distracted my opponent from Big Money and the game from there turned into pretty much of a slog. Thanks to the Ruins and Rats, though, I ended up getting
12 point Vnieyards
by the end of the game, which ended by three-piling on Rats, Ruins, and Vineyards on turn 26.
Full log:
http://dominionlogs.goko.com//20131127/log.50aaec49e4b02bf1d5a3c786.1385542208653.txt